Platform Platform Overview
HYPR Authentication Platform
True Passwordless Security® built on passkeys. Strengthen your security posture and empower business growth with passwordless MFA based on the FIDO passkey standard.

Strongest Authentication
Get NIST-AAL3 phishing-resistant coverage from desktop to cloud, across all your devices and systems.

Fast, Simple User Experience
Log in 3x faster than traditional methods with HYPR's single action passkey-based MFA.

Flexibility and Choice
Unify siloed IAM systems. Multiple authenticator options to meet differing user and business needs.
Rapid Deployment and ROI
Integrate and deploy quickly. HYPR is independently verified to deliver 324% ROI with < 6 months payback time.
HYPR Authentication Platform
HYPR extends the functionality of the FIDO passkey standard into a comprehensive identity platform for your workforce and customers. Deploy phishing-resistant passwordless authentication that accelerates your business everywhere, for everyone.
Intuitive, Full-Featured Authenticator App
The HYPR Authenticate App was designed to provide everyone a better user experience.
Replace passwords with hyperfast, hyper-secure, passkey-based MFA
One app for all devices
Easy to brand customize
Onboard users in seconds
Secure login anywhere, even when offline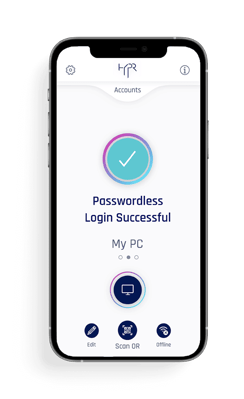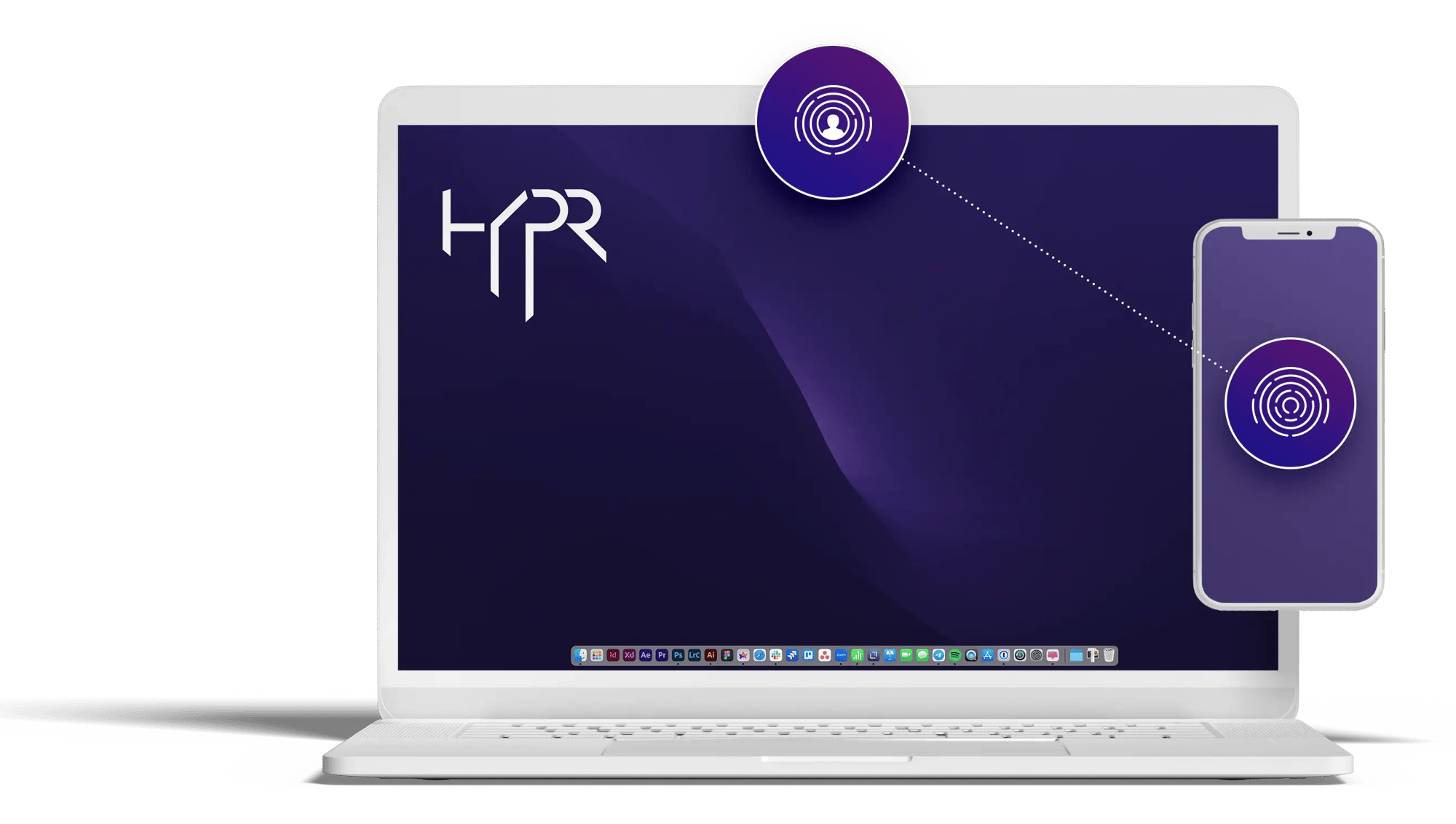 Passwordless Desktop MFA Client
Solve your desktop MFA gap with fast, passwordless login across Windows, Mac, Linux and virtual desktops.
Eliminate passwords and shared secrets across Windows, MacOS and Linux workstations and servers
Comply with regulatory mandates and security framework guidelines for MFA at the desktop
Gain single action login from desktop to SSO and cloud apps, including virtual desktops, VPN and RDP
Protect logins on shared workstations and consoles
Comprehensive Adaptive Authentication
HYPR Adapt adds risk-based, adaptive authentication so you can manage identity-related risks and reduce user friction, even in rapidly changing security environments. It continuously assesses risk from a broad and diverse set of sources, dynamically adjusting authentication security controls on an individual user basis.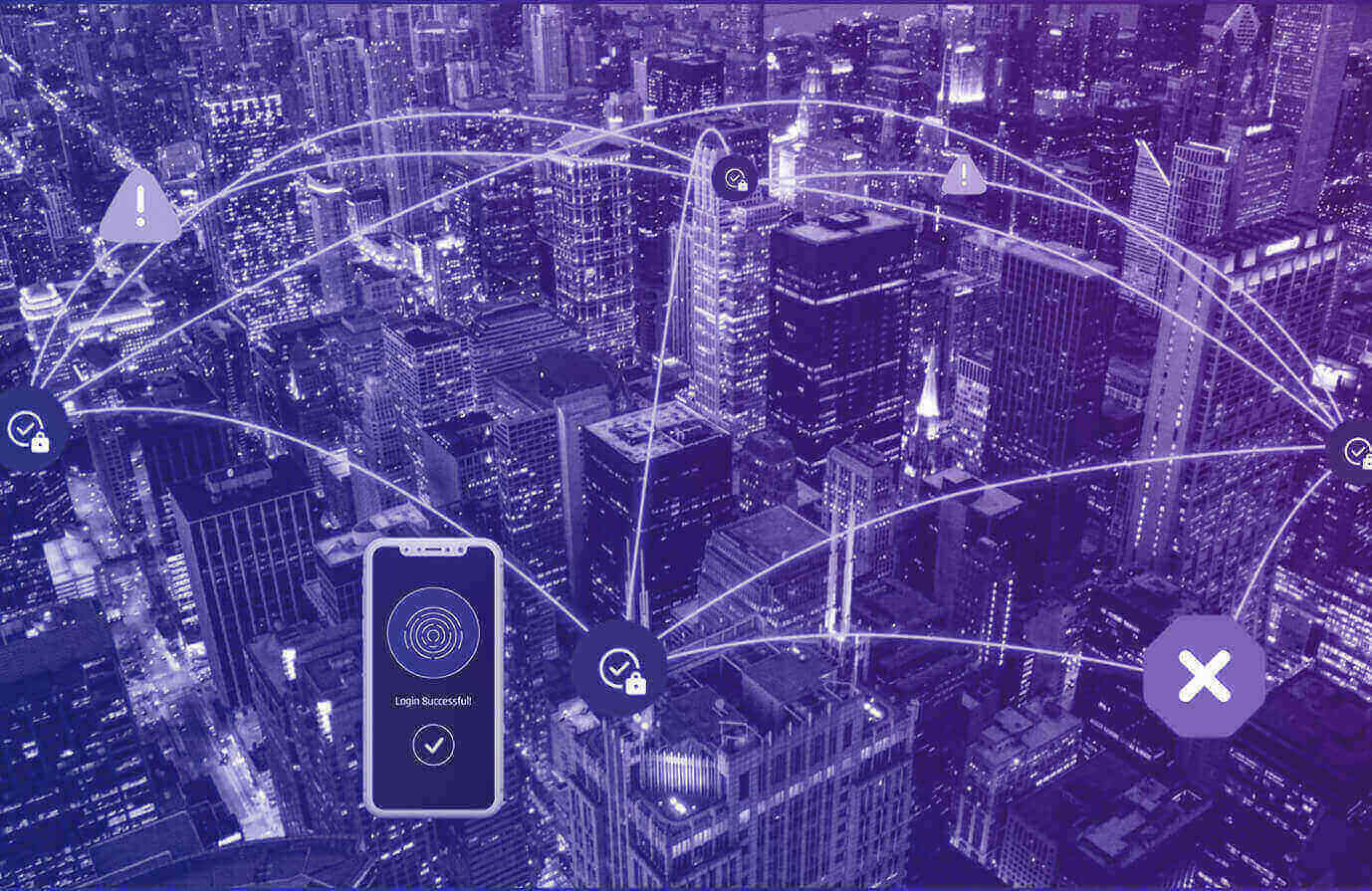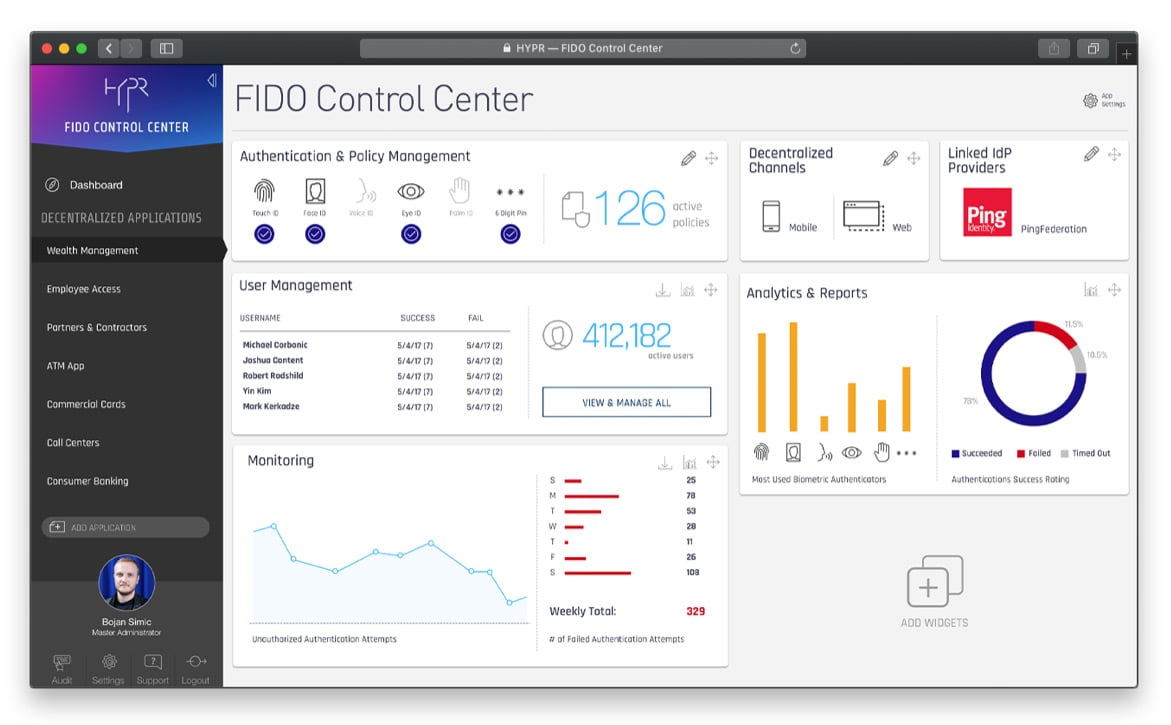 Manage, provision, and deploy passkey authentication policies across millions of users with the HYPR Control Center.
Manage FIDO authenticators at scale
Easily customize enrollment and create authentication policies
Monitor real-time user and system analytics and audit logs
Integrate with your existing security ecosystem
Robust, Developer-Friendly Passwordless SDK
Embed frictionless, secure, regulatory-compliant authentication into your custom application or process.
Quickly incorporate into your mobile and web apps
Give users fast login and achieve maximum security on any device
Integrate with your existing IdPs and security infrastructure
Support synced and device-bound passkeys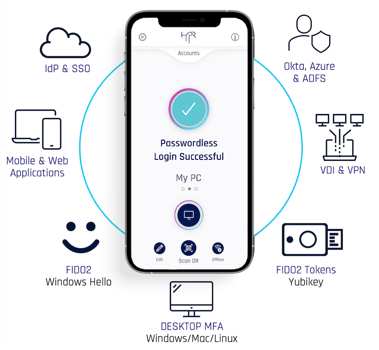 HYPR Passwordless Integrations
Integrate HYPR Passwordless MFA with passkeys into your existing infrastructure.
Extend your current identity and security investment
Easily integrate with existing systems, IdPs and applications
Deploy passkey-based authentication across your enterprise, for both customers and workforce
Achieve rapid time to value
Explore the HYPR Platform
Whether you have one or many identity providers, HYPR makes it easy to eliminate passwords. Extend your single sign-on investment and achieve the highest level of assurance across all applications. Deploy passkey-based MFA for your favorite SSO provider with minimal effort.
HYPR Is the Leader in FIDO Passwordless MFA
You're not using your insurance app every day. Users often forget their passwords, especially when it's time to renew a policy. You can see thousands, millions of password reset calls in a small time frame. It's almost like a Password Armageddon.

Abbie Barbir

Senior Security Architect, Aetna CVS Health

True Passwordless Security addresses security and fraud risks for my enterprise, but also helps me drive a vision that allows that organization to meet the digital engagement goals that we have.

Brian Heemsoth

Executive Director, Global Security Aetna CVS Health
Ready to see HYPR in action? Experience passwordless MFA that secures and empowers your business. Fill out the form to get a demo from a passwordless security expert, customized around your environment and user needs.