Total Economic Impact of HYPR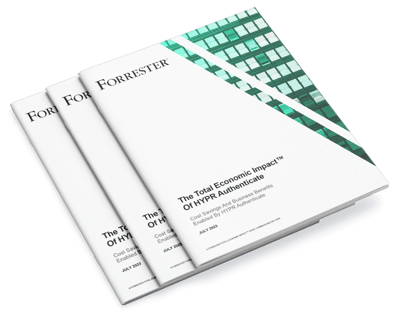 HYPR Boosts Business Efficiency and Security
Forrester Consulting developed the Total Economic Impact™ of HYPR study to analyze and quantify the benefits organizations realize by deploying the HYPR solution. The study determined that HYPR drove a significant Return on Investment (ROI) for a composite organization based on interviewed HYPR customers.
Return on Investment (ROI)
elimination of passwords and associated vulnerabilities
reduction in password reset tickets
authentication productivity gain
With HYPR, security becomes easier and better. We can now create a higher overall security posture [internally and externally]. It gives us a strategic advantage and makes us one of the safest companies to do business with, [which] increases overall revenue.
Senior Director Of Identity, Security and Access Management

Manufacturing Organization
Financial Impact of Using HYPR
Forrester Consulting calculates that HYPR customers saved millions of dollars, with a 324% ROI. These savings come from business risk avoidance, user productivity gains, lower help desk support costs and reduced employee onboarding times.