State of Passwordless Security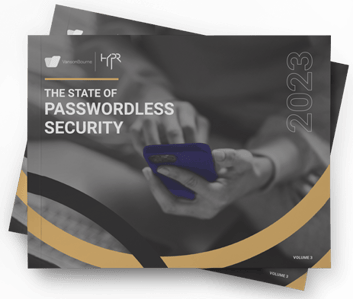 Get Fresh Insight into Top IAM Attack Vectors, Security Gaps and How Passwordless Authentication Fits In
The 2023 State of Passwordless Security report investigates conventional and passwordless authentication risks, impacts, threats and adoption trends. The report is based on independent research from interviews with 1,000 IT security professionals at organizations across multiple geographies and sectors.
1,000 IT security professionals from organizations around the globe were surveyed
increase in push attacks (MFA bombing) from the previous year
of organizations reported authentication-related breaches over the last 12 months
of organizations kept their insecure authentication even after a breach
indicate a passwordless approach would increase productivity
spent per organization on breaches caused by weak authentication
spent on password-related help desk issues
The study findings show that the consequences of that inaction are becoming impossible to ignore, both in terms of security risks and business impacts...Change won't happen overnight but I believe when we look back at this period, we will mark it as the beginning.
Andrew Shikiar

Executive Director & CMO, FIDO Alliance

On-Demand Webinar: Learn More From Industry Experts
Andrew Shikiar, Executive Director of the FIDO Alliance, HYPR CEO and CTO Bojan Simic and security expert Bill Brenner of the CyberRisk Alliance explain key report findings and how you can use it to improve your organization's security posture. Learn about top attack vectors and breach causes, along with strategies to close those vulnerabilities.
The discussion also explores the potential impact of passkeys on the adoption of passwordless technologies.