Biometrics platforms are products that deliver the enterprise a turnkey solution to deploy and oversee authentication that is based primarily on a combination of inherence factors. At a minimum, biometrics platforms contain server and client software architected either centrally (shared secret model) or decentralized (true secret model, e.g. FIDO).
Some biometrics platforms feature management consoles and bespoke features such enhanced security for devices and private keys, or usability and accessibility refinements. Other points of differentiation include interoperability with IAM, IdP and KYC providers, as well as pre-integration with native biometric and non-biometric authenticators across a fragmented device ecosystem.
Platforms can vary in their completeness as some are built upon open standards such as those of the Fast Identity Online (FIDO) Alliance, which developed the leading standard upon which many platforms are conceived: a secure, mobile-centric, passwordless Universal Authentication Framework (UAF). Solutions built atop FIDO UAF are FIDO Certified if they have undergone rigorous security, performance, and interoperability testing. This scoring speaks to the solution's readiness for enterprise deployments and endorse to the solution's scalability across millions of users with thousands of transactions per minute.
How HYPR Enables FIDO2
The HYPR Authentication Platform provides businesses and developers a wide array of authentication capabilities, including the FIDO 2 Web Authentication Framework. The FIDO 2 authentication standard consists of the W3C Web Authentication specification, WebAuthn API, and the Client to Authenticator Protocol (CTAP). HYPR is a working group member of the FIDO Alliance and has deployed FIDO-Certified authentication to millions of users across some of the world's largest enterprises. HYPR provides FIDO 2 out of the box to enable true passwordless security across mobile, web and IoT applications.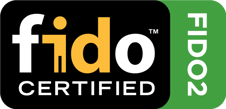 Example:
"My company has migrated its users to a passwordless authentication and began our journey by deciding we would not be custodians of all of the biometrics used to authenticate users. For that we chose a biometrics platform that is FIDO Certified."
FIDO2 Web Authentication Demo: