Passwordless Authentication
Eliminate passwords and accelerate adoption of multifactor security with a consistent experience that delights your employees and customers. HYPR is the Passwordless Cloud Platform trusted by the Global 2000.
Solve your desktop MFA gap to protect your workforce and critical assets. Whether you have a simple or complex IAM environment, HYPR scales with the security needs of your enterprise. HYPR's passwordless solutions integrate flawlessly with your existing providers to create a unified login experience.
"Given all the risks with passwords it's something that we have to work as an industry to move past from. Passwordless is one of those few opportunities that I've seen that a security-led initiative can change the way that the business operates."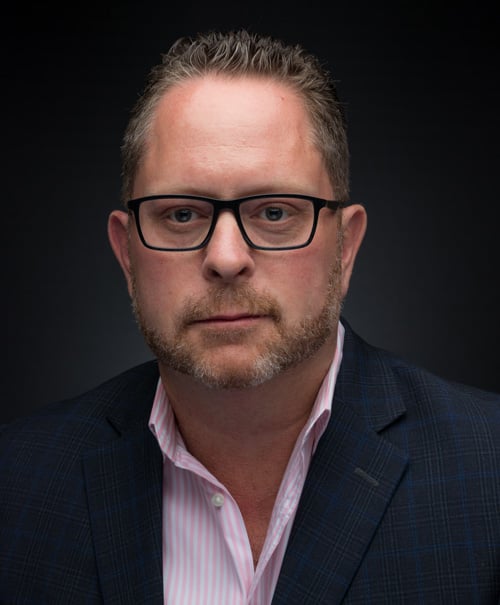 Passwordless Customer Authentication
HYPR delivers Strong Customer Authentication that's faster and easier than ever before. Reduce Account Takeover (ATO) Fraud and improve your customer login experience. Increase customer MFA adoption and mobile engagement with lightning-fast security that sparks joy. The world's leading enterprises deploy HYPR to enhance security with usability that's simple, familiar, and intuitive.
"True Passwordless Security provides not only an ability for me to help drive a strategic vision that addresses security and fraud risk for my enterprise. But, also helps me drive a vision, meet the digital engagement goals that we have, and provide our users and our customers with a better experience."
Brian Heemsoth
Executive Director of Global Security, CVS Health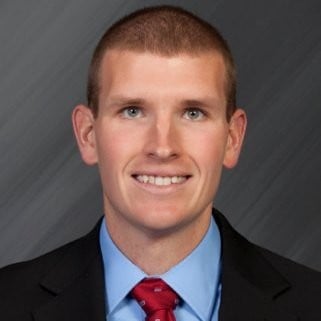 How Does Passwordless Work?
Passwords create a large attack surface for hackers to attempt credential stuffing, brute force, and phishing attacks. They leave users vulnerable to Account Takeover (ATO) Fraud and further breaches that escalate to compromised critical assets.
With password-less authentication, a person uses their smartphone, hardware token, or computer instead of a password to access local and online services. When combined with public-key cryptography (PKC), this approach enables a higher level of security with a much faster user experience.
Want to learn more about passwordless technology?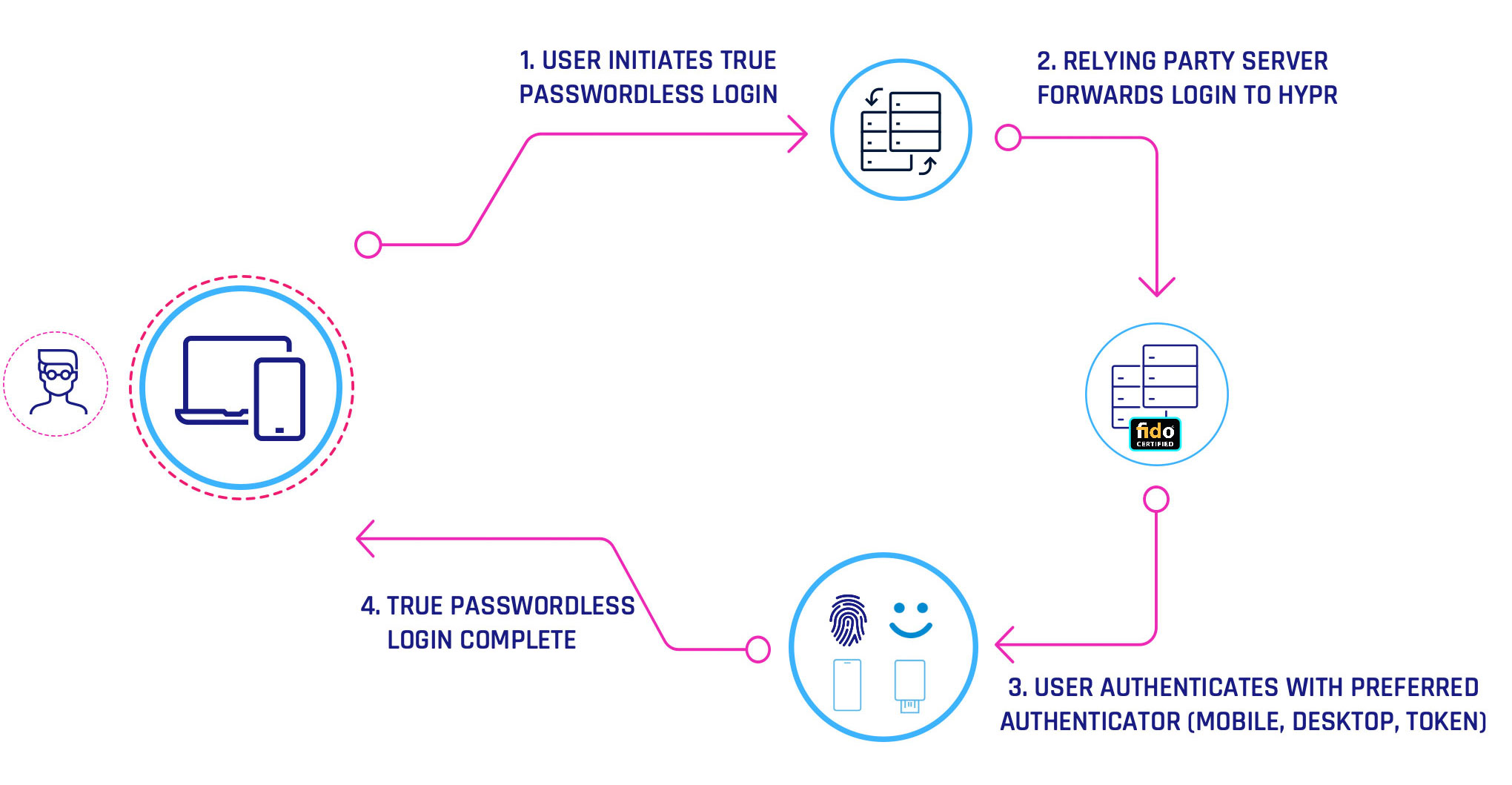 "Password elimination is core to our vision for a secure Azure ecosystem. HYPR has proven to scale as a leader in Passwordless security, and an enabler of our shared vision for a world without passwords."
Ann Johnson
Corporate Vice President Cybersecurity Solutions, Microsoft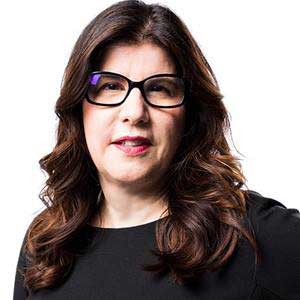 Whether you have one or many identity providers, HYPR makes it easy to eliminate passwords. Extend your single sign on investment and achieve the highest level of assurance across all applications. Deploy true password-less MFA for your favorite SSO provider with minimal effort. Anything is possible with HYPR's passwordless platform extensions.
Zero Trust means Zero Passwords.
Empower your workforce with fast and easy password-less security across devices, apps, networks, and more. HYPR simplifies and unifies login for desktops, RDP, VPN, SSO and VDI – to support your workforce's productivity wherever they are.
"Password elimination gives businesses a massive leap forward in terms of security posture. HYPR has made passwordless authentication a reality at a time when the need for security could not be more urgent."
Michael Christenson
COO, New Relic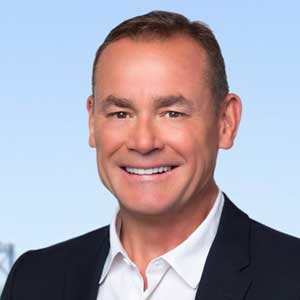 HYPR is Trusted by Industry Leaders
HYPR is deployed by businesses of all sizes across multiple industries including financial services, automotive, energy, and many more. Together, we are building a world without passwords. Explore Customer Case Studies.
What are the Top Considerations When Going Passwordless?
It's critical to find the passwordless solution that best fits the needs and requirements of your organization. Look at these key areas.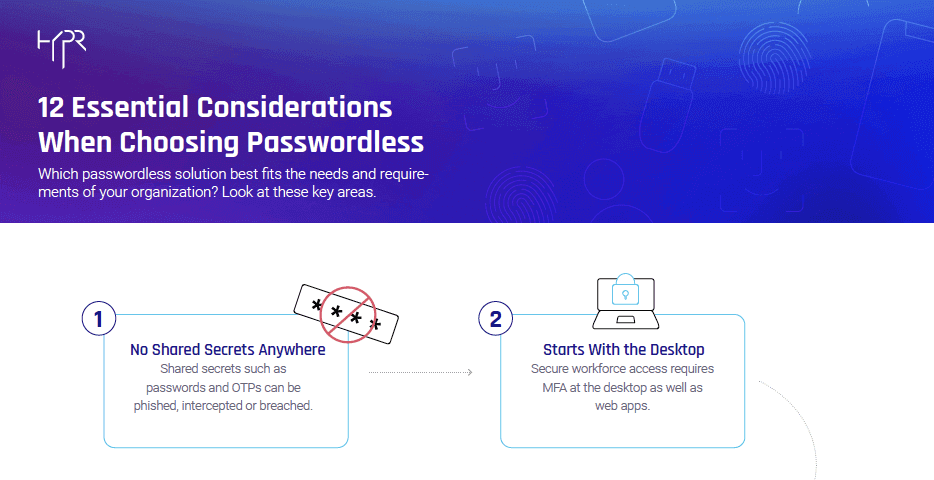 How do I Eliminate Passwords?
HYPR makes it easy for IAM buyers, IT Managers, C-Level Executives and business leaders to eliminate passwords across their organization.
This guide provides best practices and tips to move away from passwords and legacy MFA that expose your organization to unacceptable risk.