For the best experience, download the HYPR mobile app for Android from the Google Play Store.

If that option is not available, then select the appropriate APK download.
Download the APK
It is not common to require the APK and should only be used if you cannot download the HYPR application from the Google Play Store.
If you have an existing APK or the HYPR mobile app from the Google Play Store, then the installation will fail until you uninstall the existing application and install the new APK.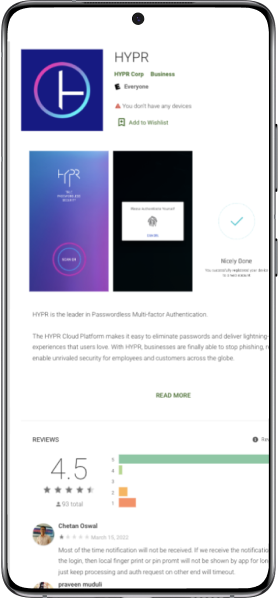 Full HYPR functionality for Android OS mobile devices
Some features of the HYPR mobile application do not work in certain regions, such as China
To successfully use the application, download the limited Android APK instead of the standard download
Features unavailable in the limited version:
Push notifications
In-app messaging
Dynamic links for registration and authentication
Crashlytics reporting
For each new HYPR mobile application release, you must manually install the latest version of the APK to stay current.